How does the risk of refractory CMV affect your clinical approach to already vulnerable, post-transplant patients?
Despite therapeutic advancements, the incidence of post-transplant refractory or resistant CMV remains a challenge for both solid organ transplant (SOT) and hematopoietic cell transplant (HCT) recipients.1
Many factors may be associated with an increased risk of developing refractory or resistant CMV post-transplant.2-5
Significant and multifaceted risk factors include2-5:

Treatment related
Patient related
Transplant related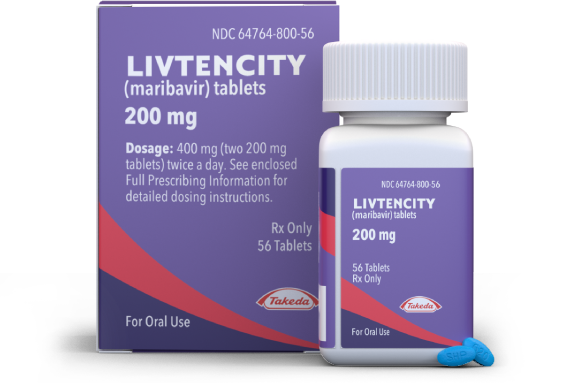 What is LIVTENCITYTM (maribavir)?
LIVTENCITY is indicated for the treatment of adults and pediatric patients (12 years of age and older and weighing at least 35 kg) with post-transplant cytomegalovirus (CMV) infection/disease that is refractory to treatment (with or without genotypic resistance) with ganciclovir, valganciclovir, cidofovir or foscarnet.
Frequently Asked Questions about LIVTENCITY:
The efficacy and safety of LIVTENCITY were evaluated in SOLSTICE: a Phase 3, multicenter, randomized, open-label, active-controlled superiority trial of 352 adult SOT or HCT transplant recipients with refractory or resistant CMV. Patients were randomized and treated with LIVTENCITY (N=235, 400 mg twice daily) or investigator-assigned treatment (IAT*; N=117, as dosed by the investigator) for 8 weeks, with a 12-week follow-up. Primary endpoint was defined as confirmed CMV DNA level <LLOQ (ie, <137 IU/mL in 2 consecutive samples tested ≥5 days apart) at the end of Week 8.1,6
LIVTENCITY in pediatric population6:
Only patients ≥18 years of age were enrolled in the study. Use of LIVTENCITY in pediatric patients 12 years of age and older and weighing at least 35 kg is based on the following:
Evidence from controlled studies of LIVTENCITY in adults
Population pharmacokinetic modeling and simulation demonstrating that age and body weight had no clinically meaningful effect on plasma exposures of LIVTENCITY
LIVTENCITY exposure is expected to be similar between adults and children 12 years of age and older and weighing at least

35 kg

The course of the disease is similar between adults and pediatric patients to allow extrapolation of data in adults to pediatric patients
The safety and effectiveness of LIVTENCITY have not been established in children younger than 12 years of age
IAT=investigator-assigned treatment; LLOQ=lower limit of quantification.
*Investigator-assigned anti-CMV treatment with 1 or 2 of the conventional CMV antivirals: Ganciclovir, valganciclovir, foscarnet, and/or cidofovir. Combination therapy with cidofovir and foscarnet was not permitted. Changes to dose or dosing schedule were permitted. Discontinuation of one of the combination agents was permitted. Only switches between ganciclovir and valganciclovir were permitted.
Primary Endpoint in post-transplant adult patients with refractory or resistant CMV:
LIVTENCITY was statistically superior to IAT in achievement of CMV DNA level <LLOQ (<137 IU/mL*) at Week 8 (56% [131/235] vs 24% [28/117]; 33% adjusted difference; 95% CI [23, 43]; P<0.001).6†
Virologic failure during treatment and relapse post-treatment: Virologic failure due to resistance can occur during and after treatment with LIVTENCITY. Virologic relapse during the post-treatment period usually occurred within 4-8 weeks after treatment discontinuation. Some maribavir pUL97 resistance-associated substitutions confer cross-resistance to ganciclovir and valganciclovir. Monitor CMV DNA levels and check for maribavir resistance if the patient is not responding to treatment or relapses.

*As assessed by COBAS® AmpliPrep/COBAS® TaqMan® CMV test.6
†Cochran-Mantel-Haenszel weighted average approach was used for the adjusted difference in proportion of responders (MBV-IAT), 95% CI, and p-value, after adjusting for transplant type and baseline plasma CMV DNA level concentration. Computation included only those with both stratification factors.6
Lower rate of treatment discontinuations with LIVTENCITY: Overall, a lower rate of treatment discontinuation due to adverse events was seen with LIVTENCITY vs IAT (13% [31/234] vs 32% [37/116]).6
The most common reasons for treatment discontinuation were dysgeusia, diarrhea, nausea, and recurrence of underlying disease (each reported at 1%) in the LIVTENCITY group and neutropenia (9%) and acute kidney injury (5%) in the IAT group6
The most common adverse events reported in patients treated with LIVTENCITY were taste disturbance (46%), nausea (21%), diarrhea (19%), vomiting (14%), and fatigue (12%).6
Taste disturbance rarely led to treatment discontinuation (1%; 2/234) and usually resolved while on or post-treatment6,7

37% (44/119) had resolution while on treatment (median duration, 43 days; range, 7-59 days)1,6
For patients with ongoing taste disturbance after drug discontinuation, resolution occurred in 89% (median duration of symptoms off treatment, 6 days; range, 2-85 days)6
Taste disturbance included the terms: ageusia, dysgeusia, hypogeusia, and taste disorder.
LIVTENCITY offers the convenience of an oral formulation.6
Recommended dose: 400 mg (two 200 mg tablets) twice daily for both adults and children 12 years of age and older weighing at least 77 pounds (35 kg).6
Can be taken with or without food6
Can be taken as whole, dispersed or crushed tablets by mouth, or as dispersed tablets through a nasogastric or orogastric tube6
Please see Full Prescribing Information for more details
No dose adjustments are required for patients with impaired renal function or those with mild or moderate hepatic function6*
Dose adjustments are needed when LIVTENCITY is co-administered with certain anticonvulsants6
*Impaired hepatic function=mild (Child-Pugh Class A) or moderate (Child-Pugh Class B). Administration in patients with severe hepatic impairment has not been studied. Impaired renal function=mild, moderate, or severe. Administration in patients with end stage renal disease (ESRD), including patients on dialysis, has not been studied.6
Potential drug-drug interactions
LIVTENCITY has the potential to increase concentrations of certain drugs6
Frequently monitor immunosuppressant drug levels throughout treatment with LIVTENCITY, especially following initiation and after discontinuation of LIVTENCITY and adjust the dose, as needed6
No clinically significant interactions were observed in clinical drug-drug interaction studies of LIVTENCITY and ketoconazole, antacid, caffeine,

S-warfarin

, voriconazole, dextromethorphan, or midazolam6
Concomitant

drug class

and name*
Effect on concentration
Clinical comments
Immunosuppressants

Cyclosporine

Everolimus

Sirolimus

Tacrolimus†

Cyclosporine

Everolimus

Sirolimus

Tacrolimus

Frequently monitor these drug levels throughout treatment with LIVTENCITY, especially following initiation and after discontinuation of LIVTENCITY and adjust dose as needed.‡

Antiarrhythmics

Digoxin†

Digoxin

Caution should be exercised when LIVTENCITY and digoxin are co-administered; serum digoxin concentrations should be monitored and the dose of digoxin may need to be reduced when co-administered with LIVTENCITY.‡

Antimycobacterials

Rifabutin

Rifampin†

LIVTENCITY

Co-administration with LIVTENCITY is not recommended due to potential for a decrease in efficacy of LIVTENCITY.

Anticonvulsants

Carbamazepine

Phenobarbital

Phenytoin

LIVTENCITY

A dose adjustment of LIVTENCITY (to 800 mg twice daily with Carbamazepine; to 1,200 mg twice daily with Phenobarbital and Phenytoin) is recommended when co-administered with these agents.

HMG-CoA Reductase Inhibitors

Rosuvastatin‡

Rosuvastatin

The patient should be closely monitored for rosuvastatin-related events, especially the occurrence of myopathy and rhabdomyolysis.‡

Herbal Products

St. John's wort

LIVTENCITY

Co-administration of LIVTENCITY and St. John's wort is not recommended due to potential for a decrease in efficacy of LIVTENCITY.

=decrease;

=increase.
*This table is not all inclusive.
†The interaction between LIVTENCITY and the concomitant drug was evaluated in a clinical study.
‡Refer to the respective prescribing information.
LIVTENCITY (maribavir) is an antiviral drug against human CMV6
Its action is mediated by competitive inhibition of the protein kinase activity of human CMV enzyme pUL97 and its natural substrates,* which results in inhibition of the phosphorylation of proteins.6,9,10 This results in the downstream inhibition of:
CMV DNA replication11,12
Viral encapsidation12
Nuclear egress of viral capsids13
*The natural substrates (phosphorylation targets) of pUL97 include ppUL44, pp65, RNA polymerase II large subunit, retinoblastoma protein, lamin A and C, p32, nuclear egress complex (UL50, UL53), histone deacetylase 1, and eukaryotic elongation factor delta.10,14
References
1. Chemaly RF, Chou S, Einsele H, et al. Clin Infect Dis. 2019;68(8):1420-1426. 2. El Chaer F, Shah DP, Chemaly RF. Blood. 2016;128:2624-2636. 3. Fisher CE, Knudsen JL, Lease ED, et al. Clin Infect Dis. 2017;65(1):57-63. 4. Sandkovsky U, Qiu F, Kalil AC, et al. Transplant Proc. 2018;50(10):3763-3768. 5. Liu J, Kong J, Chang YJ, et al. Clin Microbiol Infect. 2015;21(12):1121.e9-15. 6. Livtencity (maribavir) Prescribing Information. Lexington, MA: Takeda Pharmaceuticals U.S.A., Inc. 7. Avery RK, Alain S, Alexander BD, et al. Clin Infect Dis. 2022;75(4);690-701. 8. Avery RK, Alain S, Alexander BD, et al. Clin Infect Dis. Supplement. 2022. doi.org/10.1093/cid/ciab988. 9. Shannon-Lowe CD, Emery VC. Herpesviridae. 2010;1(4):1-13. 10. Steingruber M, Marschall M. Microorganisms. 2020;8(4):515. 11. Biron KK, Harvey RJ, Chamberlain SC, et al. Antimicrob Agents Chemother. 2002;46:2365-2372. 12. Wolf DG, Courcelle CT, Prichard MN, Mocarski ES. Proc Natl Acad Sci U S A. 2001;98(4):1895-1900. 13. Krosky PM, Baek MC, Coen DM. J Virol. 2003;77:905-914. 14. Bigley TM, Reitsma JM, Mirza SP, Terhune SS. J Virol. 2013;87(13):7393-7408.
Upcoming events:

Get to know LIVTENCITY
Join us at upcoming congresses.
Speak with us at CEoT in Scottsdale, AZ, on February 23rd-25th and discover more about LIVTENCITY.
Speak with us at ISHLT in Denver, CO, on April 19th-22nd and discover more about LIVTENCITY.
Speak with us at ATC in San Diego, CA, on June 3rd-7th and discover more about LIVTENCITY.